Last week I got the chance to interview the lovely Sheena of IAMSheGlobal. I got to know Sheena, many months ago through her blog. One day as I was following up on blogs I subscribe to, I somehow came across Sheena and I decided to check out her blog. Immediately I was draw to her. At that time, I knew for sure that it was her sense of style, her confidence in her jewelry style and her overall delightful persona but after this interview I discovered many other things we have in common including her jewelry line!. Here is the full interview with Sheena of IAMSheGlobal.
Oyindoubara: Tell us a bit about yourself
Sheena: My name is Sheena. I'm a born and raised Angeleno. My parents were always very open with us and we lived in a very diverse neighborhood growing up, so I learned that life is full of different people, cultures, talents, ways of life and self-expression. I have always been curious about different cultures and their traditions. I love languages and being creative.
Artistic expression has always been a common theme throughout my life, from creating collages as a kid, to getting an Interior Design degree, to hand-making jewelry with my sister to creating a beautiful meal and more so now, with my fashion choices. I am currently building my business, IAMSHEGLOBAL, in which I will escort small groups on arts and culture based shopping trips to different countries. I will also offer global wares in my curated online boutique.
Oyindoubara: You have a very bold and interesting taste in jewelry. You always mix and match various types of pieces in very chic and beautiful ways, what inspires your jewelry style?
Sheena: My choice of jewelry is inspired by my travels. Jewelry and accessories are my favorite item to purchase when traveling. I look for handmade, unique pieces that represent the artists, traditions and colors of that country. My fashion is an outward expression of the journey I am on and the places I've been. I especially love to combine jewelry pieces from different countries because it reflects my love of global arts and culture.
Oyindoubara:  Do you have a go-to or signature piece? (If yes) What is it?
Sheena: I would say my go to piece of jewelry is a stack of bangles. Not a particular set, just an arm filled with them.
Oyindoubara: Why is it your go-to piece? What draws you to it?
Sheena: My favorite accessorizing, is to mix and match bangles. Inspired by the color or style of my outfit, I'll play with various combinations of wood, metal, thread, beaded, clay, rhinestone, woven, bone and carved bangles to create a one of kind grouping of bracelets. It's perfect because I can purchase one bracelet or a set and create endless combinations. I feel its a strong way to create a truly unique look with your jewelry.
Oyindoubara: You are also a jewelry designer, why did you decide to pursue jewelry making?
Sheena: My sister has made jewelry for over 20 years and a few years ago, we decided to start making jewelry together. We have always been enamored with other cultures, the way they adorn themselves, their traditions and their artistry. With inspiration gathered from various travels, coupled with our backgrounds in the creative arts and design and our endless desire to create, Sistas Jewelry was born. She and I have very different aesthetics so we balance each other's designs and provide one-of-a-kind pieces that appeal to different people.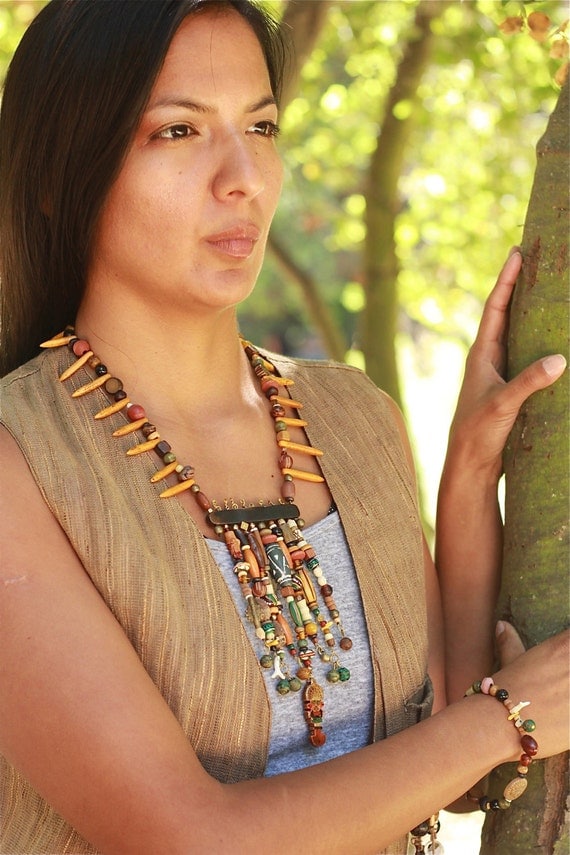 Oyindoubara: What inspires your jewelry designs?
Sheena: The world is my inspiration, sprinkled with the bold beauty of fearless women. My jewelry designs are inspired by a "globe-trotting goddess" muse. I design for the woman who travels the world, whether in reality or in her dreams. She is daring, not afraid to stand out and loves the exotic and bold. My pieces are bright, big and striking. The pieces I create are not for everyone. They are often over the top and need a strong woman to wear them. I want to create wearable art and it will speak to whoever is supposed to.
Oyindoubara: Southern California is filled with all sorts of good places to wine and dine, where is your best spot to eat in SoCal?
Sheena: That is a hard question. I have my go-to places for different cravings. I have lived in Los Angeles my entire life and I have only scratched the surface of amazing food spots. I am grateful for the diversity that makes up this great city and with that comes endless options of culinary experiences. I would say my recent favorites I've tried are Father's Office in Santa Monica (The best burger I've ever eaten) and Black Market Liquor in Studio City (hot, fresh made potato chips with an artisan cocktail, anyone?).
Oyindoubara: What do you do for fun?
Sheena: I love to read (currently alternating between spiritual and internationally based fiction books). I love to listen to the global music stations on Pandora (Bob Marley, Cuban and Bollywood are on heavy rotation). I hike with my dad in the mornings where we walk it out and talk it out. I love trip dreaming/planning. I love dancing (formal dance floor not required). Cooking relaxes me and feeding others makes me happy.
Oyindoubara: What is your most favorite thing to do in the world?
Sheena: My favorite thing to do in the world is travel. I know it is my life's purpose. It feeds my soul in ways that words can not describe. I hope to inspire and share with others the magnitude of beauty that the world has to offer. Anthony Bourdain said, "try to go as far as you can, as often as you can" and I am.
Oyindoubara: What are your dreams & aspirations for your designs?
Sheena: I hope that my designs encourage those that wear them to be a little bolder and share their inner and outer beauty with those around them. I want my pieces to inspire people to see different corners of the globe, to appreciate the detail and traditions that are embodied in the designs and embrace the beautiful gift of diversity the world has to offer.
Oyindoubara: Where can readers connect with you online?
Sheena: I would love for your readers to "Join the Journey" with me. I share my global shopping tips, travel treasures and "How I wear the World" wardrobe inspiration on my blog, www.iamsheglobal.com. My handmade jewelry can be found at www.sistasjewelry.etsy.com. We can also connect on Facebook, Instagram, Twitter & Pinterest @iamsheglobal.