Summer is definitely here, with temperatures rising to the 100s here in sunny California, we are losing the pants & jeans and trading them in for fun flirty skirts or denim shorts & of course showing off fabulous jewelry.
Whether it is a 100 degrees in your city or much less, summer is always a good time to update your jewelry wardrobe because designers make & play around with unique styles or patterns making it a good time to really express your style with these jewelry pieces. So here are the top 5 jewelry pieces every girl needs in her summer wardrobe to update her look.
1. Layered Necklaces.
This is one trend I refuse to leave behind in Spring. This style done right is very classy and dramatically transforms any boring Tee or dress. The secret to perfecting this look is to pair necklaces in graduating lengths but at the same time trying not to over do it by having too many necklaces on.
You usually would want to start with one really long piece with a nice statement pendant then moving upwards, put on smaller necklaces with smaller pendants.
Get started with these necklaces below,
1. Gold Personalized Initials Necklace by Cocowanger
2. Geometric Earrings
These are another fab style of jewelry to take a break from the everyday structured look.
Check out this Geometric OpenWork Drop Earrings by Rachel Roy above or this Linear Earrings by Givenchy below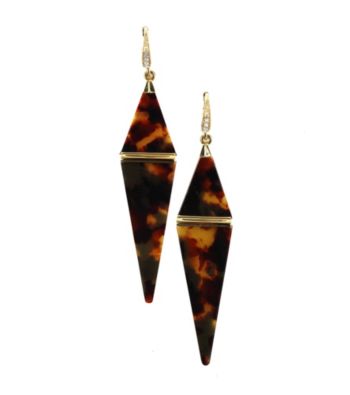 3. Knuckle Rings.
You don't need to be paying attention to notice that knuckle rings are all the rave now. You shouldn't let summer pass by without trying this out or before the winter gloves come back on.  I am still in love with stacking rings but a knuckle ring is something worth wearing this summer. Don't forget you can get the best of both by pairing both stacking & knuckle rings. Just remember to keep it simple. Less is more.
KNUCKLE RING SET – Set of 3 – Arrow End Band Set – Greater Than Equal To Ring – V Ring
or check out this 3 band knuckle band set by SweetReVengeJewelry
4. Beaded Gemstone Bracelet.
Beads have a very long history and have made their way from generations to generations. From items of special events to everyday fashionable looks, summer is also the perfect time to show off your style & express your individuality with beaded bracelets which carry meaning in their designs. My personal favorite is
the Lava Rock gemstone bracelets made from cooled down lava from volcanoes. They exhibit one of a kind texture and beauty
These personalized ceramic beaded bracelets by Taudrey
5. Men's wrist watch.
Wearing men's wrist watch took off after Victoria Beckham & Eva Longoria were spotted wearing them on the red carpet. This trend isn't new anymore to the style world but if you have been hesitant on trying it out, this is a great season to get in on the fun. Lots of designers have taken advantage of this trend by designing really good pieces to work with.
I am excited about these 5 trends and will be mixing things up with these styles. What pieces will you be wearing this summer? Lets hear your comments below.