Arm candy is all the craze lately, making its way from the streets to fashion magazines. It is a stylish trend that has proved to be fun with the variations only limited by your creativity.
The big question now is "How do I put together the perfect array of bracelets?" There are a few things to have in mind before you decide on what pieces to put together. You want to remember that your ensemble should go with your outfit (you don't want to look like your clothes & jewelry are at war with each other and like I always say, your clothes & jewelry should be in harmony. This does not mean matchy matchy, it's just simple color & texture coordination.)
To setup your perfect set of bracelets, there are 3 simple fun steps:
1. Statement Piece
Select a statement piece bracelet that will set the theme to build the look around. Remember this focus piece should go with your outfit. Generally speaking, this main piece should be fun and colorful and preferably a bit chunky.
Metal bracelets ~ Charming Charlie
2. Beads Beads Beads!
If engines are to cars, then beads are to the perfect arm candy mix. Beads have a wonderful way of adding a bit of texture to the overall look of a arm candy set and are also a super easy way to compliment the color scheme of your overall outfit. Personally I love to go for small sized gemstone beads to add a touch of sophistication.
White Magnesite Beads ~ OYINDOUBARA
Bead Stretch Bracelet ~ Nordstrom
3. Bangles or Charm Bracelets or Wrap Bracelets
Now you want to top off your creativity with a mix of wrap bracelets or slim bangles like this set of 24 from Nordstrom. You only need a few like about 3-5 because you don't want your arms to look to crowded and loose the appeal or even get too heavy that you become uncomfortable. Remember fashion should always be a mix of fun & comfort.
Tasha Bangles ~ Nordstrom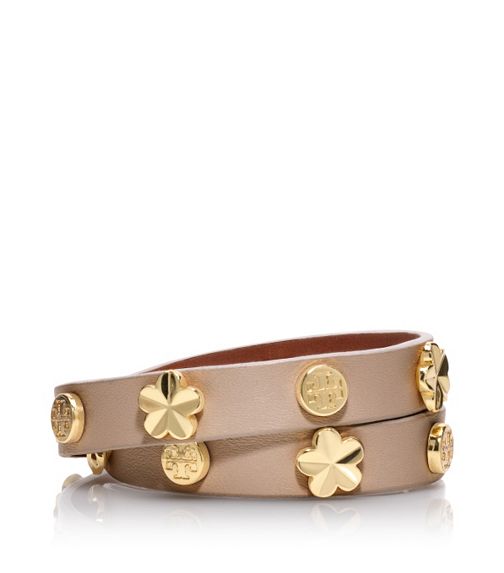 Flower Double Wrap Bracelet ~ Tory Burch
Bangles ~ Juicy Couture
Elephant Charm ~ Juicy Couture
4. Men's Wrist watch (Optional)
Although most of the popular arm candy parties have a bold/chunky wrist watch, in my opionon this is totally optional especially if you have a very big statement piece.
Arm candy without a watch
Very simple arm candy party I set up when going to church. Notice I have the basics, the teal metal bracelet as my statement piece, some colorful beads (I call it my bracelet of many colors 😉 )  handmade by me, a chunky wrist watch and lastly a very simple gold chain.
So there it is, easy, fun and stylish! Need more ideas? Check out this Pinterest board: Arm Candy Ideas for tons of stylish stacking ideas.
What is your secret stacking technique or favorite pieces to include in your arm party? Let us know!